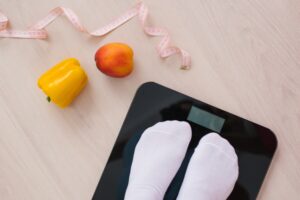 In a world where health and happiness are important, it's more important than ever to find effective ways to lose weight and deal with obesity. It can be hard to lose weight, but at Nab Life Health, we're committed to helping people reach their health goals through personalized care and new treatments. As a weight loss doctor's office that focuses on weight loss and managing obesity, we have become a trusted partner in changing people's lives.
How We Care About Health
At Nab Life Health, we believe that health is the most important part of a happy life. We know that being overweight or obese affects more than just your physical health. It also affects your mental and emotional health. Because of this, our team of hardworking medical professionals is committed to offering complete answers that meet each person's unique needs.
Approach to Weight Loss as a Whole
What makes us different is that we look at weight loss as a whole. We know that one size doesn't fit all, so we customize our plans to meet the needs, lifestyles, and medical histories of each of our patients. Our doctors do thorough evaluations to find out what's causing weight gain, which can be caused by anything from hormonal issues to metabolic factors.
Obesity and weight loss shots
Our cutting-edge fat shots are one of the best treatments we offer. These Semaglutide weight loss drug shots are meant to help people lose weight faster and add to a healthy lifestyle. These shots are given by our medical staff. They are carefully made to target fat stores and speed up the metabolism. These shots can give people the extra push they need to get past weight loss plateaus and get benefits that will last. If you are in the Destin, Santa Rosa Beach, Fort Walton Beach, Niceville, Valparaiso, Bluewater Bay, Navarre, 30A, Freeport, Rosemary Beach, Mary Esther, Shalimar or Crestview, Florida areas, then give us a call.
Treatment Plans Made Just for You
No two people are the same, and their weight loss journeys shouldn't be either. When we make a person's treatment plan, we think about their medical background, lifestyle, preferences, and goals. We work closely with our patients to make a road map that shows attainable goals and keeps track of their progress. People stay on track and stay inspired because the plan is checked on and changed on a regular basis.
Our Expert Weight loss Doctors
Our success comes from the people who work in the medicine field. Our team is made up of skilled doctors and nurses. Together, they have a lot of experience and knowledge to offer. We know that losing weight isn't just about losing weight. It's also about making your health better as a whole. Our team looks at things like nutrient deficits, emotional eating and patterns of behavior to help people make changes that last.
Education and gaining power
Our approach is based on giving our patients as much information as possible. We think that people are better able to choose healthy options when they know more about them. Starting a weight loss path can be lonely, but our patients never feel alone at Nab Life Health. People who come to our weight loss office can meet others who are going through similar things and get help from them.
Using more than numbers to measure success
Even though numbers on a scale are important, we know that success has many different parts. In addition to helping people lose weight, we also work to improve their health and well-being as a whole. We celebrate things like having more energy, sleeping better, and having more faith in ourselves. By recognizing these wins that don't involve a number on a scale, we can help people feel good about their bodies and love themselves. If you are in the Destin, Santa Rosa Beach, Fort Walton Beach, Niceville, Valparaiso, Bluewater Bay, Navarre, 30A, Freeport, Rosemary Beach, Mary Esther, Shalimar or Crestview, Florida areas, then give us a call.
Care that lasts and long-term health
Even after our patients reach their weight loss goals, we still provide follow up care.. We are committed to helping them keep doing well and make health a part of their lives for the rest of their lives. Through regular checkups, individual maintenance plans, and ongoing education, we make sure that the progress made will last for years to come.
Nab Life Health is more than just a doctor's office, we work with you to get you to the best health possible. We are leaders in the field of weight loss, weight loss shot drugs and obesity management because of our comprehensive approach, cutting-edge treatments, skilled medical team and supportive community. By putting your trust in us, you are taking the first step toward a better, happier, and more full life. Not only is changing lives our goal, but it's also what drives us.