Sit back, relax and recover
IV therapy is a treatment that utilizes an intravenous drip to introduce vital electrolytes, vitamins, minerals, and amino acids directly and immediately into the body. While it's often referred to as "hydration therapy," it's a lot more than just an infusion of hydration. We offer various vitamin and medication therapies as well as straight hydration, minerals, and electrolytes.
The human body requires a specific amount of vitamins, minerals and nutrients to maintain its normal functions and perform optimally each day. While the exact levels of nutrients an individual requires will vary from person to person, many people fall short when it comes to ingesting the daily nutrients they need.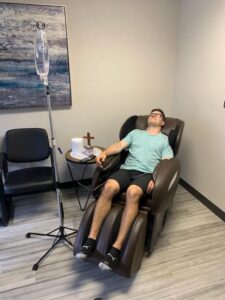 Infusion therapy involves the administration of medication through an intravenous needle or catheter. It is usually prescribed when your condition cannot be effectively treated with medication by mouth.
We make the IV experience comfortable and easy from start to finish. Get premium treatments at the recommendation of our highly trained medical staff, who are passionate about guiding you through the process of selecting the best therapy for the needs of your body.
Delivering the benefits of hydration infusion therapy directly to individuals, groups, parties, or private events, wherever you are. Our registered nurses administer flawlessly blended formulations of essential fluids, electrolytes, vitamins, and antioxidants designed to help our clients reach optimal health. Traditionally, this treatment method was only done in the hospital. But now, this service can take place in the comfort of your home, giving you more time with family and friends and less time at the hospital.
Infusion therapy can treat a range of acute and chronic conditions, including but not limited to:
General nutrition
Depression and anxiety
Athletic performance
Fatigue
Migraines
Boost energy
Improve mental clarity
Strengthen immunity
Autoimmune disorders
Infectious diseases
Nutritional/gastrointestinal disorders
Primary immune deficiencies
Boost overall wellness
Comprehensive vitamin replenishment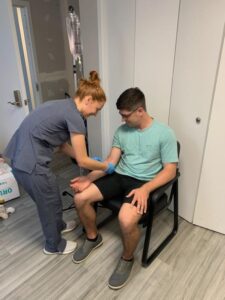 A STRAIGHT SHOT OF NUTRIENTS
IV therapy delivers vitamins, minerals and hydration directly to the bloodstream, bypassing the digestive system so you get their full, nourishing effect.
REPLENISHES WHAT YOUR BODY IS MISSING
Your body needs hydration and a healthy balance of essential vitamins to function optimally. IV therapy gives you just that, in one comfortable sitting.
IT'S QUICK AND CALMING
The typical IV treatment lasts just 30 minutes and will leave you feeling amazing—and all you have to do is kick back in one of our plush chairs and relax.
THERE'S A DRIP FOR EVERYTHING
From detoxing after a big night to prepping for an athletic event, there's an IV cocktail for whatever your body needs.