What is Workplace Direct Primary Care?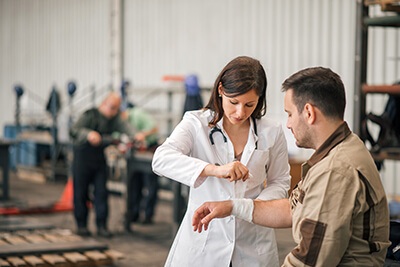 Workplace Direct Primary Care is an extension of our Direct Primary Care service of which we extend to small businesses that have the ability to enroll as a group and payroll deduct the cost.  It allows patients to have access to our clinicians at a low monthly or annual fee. We are proud members of the Direct Primary Care Coalition.
How Much Does Workplace Direct Primary Care Cost?
The only additional cost that the member would incur for medical care would be minimal medical material cost, lab, imaging, and prescriptions (if necessary); of which we have also negotiated a lower cash price.  We have also found unique ways to mitigate the prescription costs. It is important to clarify that this is not health insurance.
After an initial visit, patients are able to access our clinicians via phone so that they do not have to waste vacation or sick leave.  Furthermore, under most conditions, our clinicians can come to your workplace for the initial visit. 
What are the Contract Terms for Workplace Direct Primary Care?
Our contract terms are month to month and either party can terminate with 30 days' notice.  We provide our patients with a clearly defined outline of the services included in our DPC model.  First and last month's fees are due at registration.  If our clinic were to cease to exist, we guarantee payment for the service fee paid in advance. If you are in or around the Destin, Miramar Beach, Santa Rosa Beach, 30A, Seagrove Beach, Watercolor, Sandestin, Seaside, Dune Allen Beach, Blue Mountain Beach, Freeport, Rosemary Beach, Panama City Beach, Fort Walton Beach, Mary Esther, Shalimar, Niceville, Bluewater Bay, Florida areas then give us a call.